9/22/2013
R.J. P's Michael Jackson Arcade Cabinet
R.J. constructed his three-player Michael Jackson Moonwalker cabinet using a modified second set of plans. He is running it off an old Compaq laptop, with emulators for MAME, Nintendo, SNS and Sega Genesis. He even constructed a bartop cabinet from the spare parts from this build. Very cool.
He created a Tumbler page with plenty of details. I found a couple interesting construction ideas in the page, including his discussion of the stenciling found on the cabinet. Great job.
William M's "brocade"
William sent me a youtube link to his barcade, the "brocade". Watch it to see how it was named. He built this primarily from my barcade plans. It is a enjoyable little video. He also has a video of the arcade midway in its construction process that I also found informative as well as taking me back about nine years during the construction of my own barcade. Give these two links a view.
7/7/2013
Chris M's arcade
Chris used the second set of plans, adjusting the cabinet's width to 26" to accommodate a larger monitor. He also added a couple 2x4s to the interior (as in the first set of plans) to make it a bit more sturdy.
5/26/2013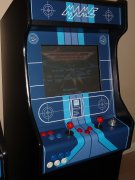 Chris P's arcade
Chris sent me a picture of his cabinet. He based his artwork on Scott's "Blue Meanie" cabinet, with slight alterations to fit the cabinet's design. Nicely done.
5/4/2013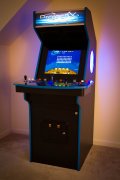 David D's "Project X"
David Dahlstrom completed Project X last summer and created a great series of blog posts about the project. They are a good read and bring up many topics which every builder needs to consider before embarking on an arcade cabinet build. I especially enjoyed the section on monitor selection. David also did my breakdown technique one better by using bolts and threaded inserts. Very nice!
There are more pictures on the Visitor Page.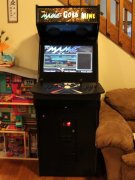 Wes B's "The Mame Gold Mine"
Wes built his cabinet around the TankStick using the second set of plans. He widened the cabinet to accommodate a 24" LCD monitor as well as chopped 10" off the depth to better fit in his living room. The name "The Mame Gold Mine" was based on the Gold Mine arcade (below) where he worked as an attendant 20 years ago. The project went quickly, taking only four weekends.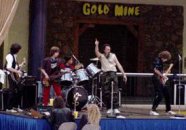 I like how well the cabinet fits into the space.
There are more pictures on the Visitor Page.
3/30/2013
Wade P's "Super Arcade"
Wade finished his project after "13 months of hard work." He built the "Super Arcade" to better utilize the TankStick he already owned. He added two light guns, which is something I have always thought would be cool.
From Wade (excerpted):
"Toughest parts? Hard to say. Figuring out details with about everything I suppose. I'm a perfectionist and not an experienced woodworker. That makes for a slow project cycle. Tough items were the bezel, front plexiglass configuration, finding a proper lightgun holster, finalizing my cabinet side template...it goes on and on.

Like most projects it always takes longer than you thought right? Lots of smaller details that I didn't realize on the onset that I would have to deal with. The impetus for the whole project was A) I'm an arcade fanatic, B) I had a older, larger CRT monitor that I didn't have use for otherwise that made MAME game look about as good as an arcade monitor and C) I'd been using this huge X-Arcade Dual Tankstick to play games and it was getting unwieldy . I had to do something with it. I wanted to combine all these things into a cohesive whole.

Truly, it has been a journey to get to the point I'm at. At times frustrating, but mostly fun. My wife will tell you that I've been obsessed."
He posted a project thread on ArcadeControls.com that details the construction, as well as a software blog post. Update 5/26: Wade completed the second blog post about the cabinet's construction, as well as a YouTube video.
There are more pictures on the Visitor Page.
3/17/2013
Chris M's arcade
Chris sent me the result of his work that he produced during his final year at University studying Robotics in the UK. From his email:
" I had the opportunity to build something on my placement
year, I ambitiously asked to build a MAME cabinet, which I was
surprisingly received the reply "If you supply the plans than OK".

As I was also paying for accommodation and student fees with my earnings, I had to create the cab on a very tight budget. It was at the company also that I managed to gain possession of most of the materials from industrial size off cuts, the speakers and the monitor for free as the company was about to throw them out. As well as the paint as the cab is painted in company colours. The finished cab totaled for £300 (about $450) and took about two weeks to build.

Extra features if the cab include if you look closely at the photos you notice a line halfway down the cabinet, that is because although the cab moves on castors, for ease of transport the cab can be separated in two. Both halves are then fixed together by two panels that each half are screwed on to. The panels also hold the control panel to the cab by friction (no screws or glue required).
The light for the marquee is a bathroom strip light that is activated with the monitor via a smart power adapted controlled by activation of the PC where the switch is on a shelf right behind the coin door. On that shelf I also keep the keyboard and spare mouse that came free with the PC."
Very nice work. There are more pictures on the Visitor Page.
1/28/2013
"Blue Meanie" as Arcade Machine sculpture
Phil Nolan created a nice 3D rendition of Scott's "Blue Meanie" cabinet, and added it to the Shapeways site where you can order a physical copy in sandstone. It is 2.133 w x 6.194 d x 3.928 h. It looks very cool so I thought I would share.
12/25/2012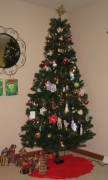 Merry Christmas!
From our family to yours, Merry Christmas and happy holidays.
12/1/2012
Dave's "NAF"
Dave D sent me a great email detailing his cabinet he finished a couple months ago and has been enjoying ever since. From his email (which I left almost entirely intact):
"I used your guide and built an arcade for myself. It's awesome and, as I'm sure you know for yourself, the source of vicious envy in the most satisfying way possible. I went for a totally retro / Tron-like style that's reminiscent of the NES and its accessories. Since it was finished sometime in August it's provided hours upon hours of fun for my friends and myself.

Some notable things about my build:

- Instead of installing a florescent bulb in the marquee, I actually purchased a set of $2 USB keyboard LED strip lights off Amazon.com and mounted them on a board. So instead of having their own plug or switch, they reach my PC's USB port via 6' USB extension cords and conveniently turn off as soon as the PC is. Plus they are bright enough to be visible in a lit room.

- Instead of full-sized prints on the surfaces of the arcade, the graphics are made of vinyl cut on a plotter and applied directly to the painted arcade. I work in a sign shop and have access to precision plotters that can slice out beautiful stickers from vector files, to any size & shape as well as a variety of colors.

- Instead of using default MameWAH interfaces splashed with clipart of consoles & games, I customized the interface to instead look like a monochromatic, pixellated menu system like you'd find in an Atari, complete with a rainbow-colored intro screen. The wallpaper of Windows, albeit shown very briefly, displays a mock "LOADING CONSOLE / RAM / DIP CHECK" diagnostic screen. It adds a retro feel to the entire machine, even when it's just booting.

- I changed the Windows Logon sound to an 8-bit melody I composed with a synthesizer, which gives the effect that something very old but very fun is being activated.

- I installed a subwoofer in the base of the arcade in addition to the speakers up top. Older arcade games obviously are not surround sound, but the bass tunes of something like Donkey Kong make a very intimidating rumble.

- I installed a wireless card and enabled file sharing on the cabinet. This way I can add ROMs from my personal computer without even touching the arcade.

I just wanted to let you know that I'm yet another guy who always wanted an arcade in his home but couldn't justify the cost of buying a cabinet with just one game on it. Your project was unbelievably cheaper to execute, allowed an infinite level of customization as well as the innate ability to play every game you can throw at it, and provides an unparalleled level of satisfaction after it's built and ready to rock. So thanks."
And thanks for sharing the details. I'm sure you've given people some ideas for their own builds.
There are two more pictures on the Visitor Page.
11/30/2012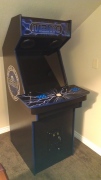 Jeff O's Arcade
Jeff O constructed this cabinet.
9/30/2012
Megatron Arcade
Dustin S and his dad built this arcade. They used a 26" TV and created a diamond plate front door for storage. From his email:
"We also modified the system to accept DDR pads on the front panel and added a diamond plate front door for storage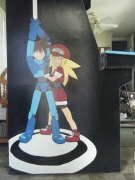 . Our front end is Mala and we are using the IPac chip for controls. We can have 3 players at the same time using the middle joystick, and we have rigged up an attachable fourth set of controls for extra fun. We also had the advantage of my girlfriend, Chelsea, being an art major student so she painted the art on the sides and designed the Marquee. It was a lot more work than we realized, but was well worth it at the end."
I agree. Very nice work! There are more pictures on the Visitor Page.
8/26/2012
ArcadeCab sponsors soccer team
The site sponsored the youth soccer team my two children are on this year. It is the 5-6 year-old age group so there are a lot of children in a group all fighting for the ball but they are beginning to learn positions. We've had our first game already (a win!) and everyone had a lot of fun. The kids did great. If anyone from the league is stopping by for the first time, welcome, and enjoy your visit. And thanks to all the other loyal visitors whose traffic helped pay for this sponsorship.
7/29/2012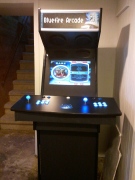 Bluefire Arcade
Ryan H sent me pictures of his Bluefire Arcade running Mala. When selecting games the buttons light up corresponding to the controls used in that particular game (very cool!). He designed the marquee himself, and "added some Godzilla art" that he pixelated to match the rest of the machine. He said the art is from some old 8-bit sprites with some editing to tie everything together.
There are more pictures on the Visitor Page.
7/19/2012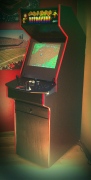 Andy and Shelley's Retrocade
Andy W's arcade has taken a place of honor in his game room. It is driven by an old HP laptop (tucked away in the drawer) running MAME32. He designed the marquee himself and had it printed "by those great guys at EMDKAY.net".
7/2/2012
James V's arcade

James V sent me pictures of his almost completed cabinet. He used the TankStick plans from the site but made a few modifications. James cut six inches off the depth to reduce the "bulkiness' of the cabinet and added a second drawer to accommodate his laptop in addition to keyboard and mouse. He expanded the cabinet's width to 25-1/2 inches to allow for his 24" Viewsonic LED monitor.
From his email:
"The monitor has two hdmi inputs. This makes it so I can run hdmi from the laptop, and also connect my Xbox 360 directly to the monitor. The monitor has an audio output jack which goes to a 150watt surround sound system. I have the two speakers up top, two mounted inside the cab, and the subwoofer. It rides on four swivel lock wheels for easy moving. In the top tray I house my Keyboard and Trackball, in the bottom tray I have all the hookups for my laptop. This way I can run the Cab as a Mame machine (Which I am running Maximus Arcade on), and also my main workstation. I have my Xbox360 and Dreamcast setup inside as well. And obviously I used the TankStick from Xgaming as my controller. Now I just need a nice coin door, and decide on side graphics. The last thing I will be doing is running green led strips in the speaker grills, the same strips under the cabinet itself, and switching out the buttons on the Tankstick for Blue Led ones for Player 1, and Green for Player 2."
6/10/2012
Thierry's Metric cab plans
Thierry lives in Quebec, Canada, and had a need for the cabinet plans converted to metric. I did not have any conversion available so he made some for himself, and graciously has shared them with you. They are based on the second set of plans, with a couple minor tweaks. It is built to hold the TankStick and a 19" Viewsonic CRT.
I greatly appreciate Thierry allowing me to post these plans. Beginners can use all the resources they can get. PDF, DWG and JPG formats have been provided. Thanks again, Thierry!
5/26/2012
Wayne's Golden Tee 3D
Wayne sent me an email describing his first arcade project. Golden Tee was always a favorite of mine to play on my cabinet (along with the Tiger Woods Golf series) so I can certainly appreciate how exciting it is to play at home.
From his email:
"I completed my cabinet about 3 months ago. It is the hit of every party! Thanks so much for the site and plans. I donít think I would have ever built the cabinet without them. I believe the cabinet had already paid for itself in Golden Tee savings alone! Iím looking forward to building another cabinet. Plus this would give me an excuse to use my new router! I didnít build in a keyboard drawer but Iím half wishing I did now. The next cabinet will have to be kicked up a notch with some killer graphics. I just wanted to get this one done and start gaming!
The cabinet is 26 inches wide and houses a 28 inch LCD monitor. I used ĺ MDF and glued and air nailed the cabinet together from the inside. The control box is covered with black laminate from Home Depot. I used some crown bolts and insert nuts to make the speaker panel, top half of the back panel, and control panel removable. The T-molding was from T-molding.com. The cabinet has a standard Plexiglas bezel painted black on the back and is spaced off the monitor using ĺ weather striping. To hold the marquee in place I purchased a cheap ($9) poster frame. I cut the frame to 26 inches long along with several pieces of plexi that came with it. I sandwiched the marquee in between the plexi and used some clear tape on the back to hold it together. I have piano hinges on the control panel and front panel. I rolled on two coats of primer and black latex paint.
The trackball, buttons, Joysticks, coin door, and mini-PAC are from Ultimarc. I purchased the marquee from gameongrafix.com bargain bin for $5! The side art is also from gameongrafix.com. Jeff at Monstarcade hooked me up with the latest MAME ROMs. Iím running Hyperspin frontend on a new (demo unit) ASUS Windows 7 box. I had an older machine but it couldnít run some of the newer games. The marquee light is an old florescent computer desk light put to good use. The cabinet has a Pyle Pro amp and a set of Pioneer car speakers which I picked up cheap on a closeout at Best Buy. I purchased some LEDs and resistors from Radio shack and used an old cell phone transformer to illuminate the trackball."
There are more pictures on the Visitor Page.

2/10/2012
Phil's arcade
Phil sent me these pictures of his finished project. The arcade houses a massive 29" Makvision CRT Arcade Monitor with bezel, and a TankStick. He added artwork from gameongrafix.com to the sides and marquis. He built a customized enclosure around the TankStick to handle the extra cabinet width required by the monitor. He removed the bottom of the stick and extended the two fire buttons on either side to the outside of the enclosure; all nicely done.
There is another picture on the Visitor Page.
11/4/2011
Ben J's arcade
I've mentioned this before and I'll say it again... I love the look of stained cabinets! Done well, they look gorgeous and Ben did a great job.
From his email:
"Just writing to let you know I finished my arcade cabinet, using your plans, and had fun doing it! I've got 2 players, trackball, pinball, lightguns, and an old Logitec force-feedback steering wheel, and I'm set! Thank you so much for the website and detailed explanations.

One thing I did differently that I wanted to note, was instead of building my control panel as you described, I actually bought a drawer box from Rockler, sized to fit. Of course, the drawer box wasn't tilted down towards the player, so to compensate for that I tilted the wings on the sides of the cabinet down by an inch to make up for it. I drilled a half-inch hole in the back of the drawer box for the USB cord to come out of, then used a USB hub resting inside the drawer box to plug everything in so that only a single USB cable comes off the control panel down to the computer. The result is that by removing eight screws, the entire control panel comes OFF the cabinet and could, potentially, be plugged into any computer in the home as a modular arcade control system! Slick! I've been able to use it sitting in front of the TV on an easy chair, which is kinda fun, and I have the pride of having built it myself instead of just buying a tank-stick.

I went for furniture-grade elegance so it would fit in a well decorated rec-room setup, and stained it all with China Red stain from Menard's."
There are two more pictures of Ben's work on the Visitor Page.
9/20/2011
Mark K's cabinet
The first thing that struck me about this cabinet is the monitor. Mark constructed his cabinet with a 22" CRT that he rotated in order to better play the "true classics" (Galaga, Donkey Kong, Pac Man, etc). He says that "about 75% of my games are in portrait. I am running about 70 games I have played or remember playing as a kid. I was also introduced to some of these when I had my Commodore 64. I am running these as well."
The Visitor Page has a few more shots as well.
8/15/2011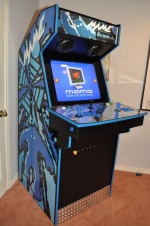 Jason T's "Blue Meanie"
Jason T built this beauty from the second set of plans. It invoked a sense of deja vu (in a good way) when I first saw the pictures, as he used the side art my brother-in-law Scott so graciously shared out. Jason got the artwork printed on 4mil vinyl by a local company. The little Pacman is the knob to open the keyboard drawer. TV and computer are set to turn on when power come on, and he has a nifty shutdown batch job launched from a Shift-button (on his mini-PAC) to power it all down gracefully. Jason is using Maximus Arcade as the front-end for MAME right now, with more emulators coming soon. Nice work.
The Visitor Page has a few progress photos in addition to a couple more completed shots.
5/5/2011
Jolly-Ox's Multicade
Jolly-Ox sent me this email: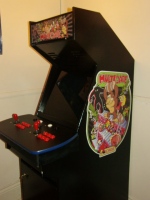 "As a kid arcades were a part of everyday life. The MAME community has done so much to restore the experience. For this cabinet I used a 19" CRT held to a shelf with plumbers strapping and 1/4" X8" carriage bolts; then installed a subwoofer in the cabinet, satellite speakers were placed behind the marquee. I used 3/4" Birch Plywood and no edge molding. The 3/8" round-over router bit was used to shape the edges rather than T-molding. Sherwin Williams oil enamel primer was tinted to a grey and applied with a foam roller; finally I applied 2 coats of the same brand Black Enamel. The art was obtained from Ebay.
For the control panel I used 2 Ultimark360 sticks with heavy springs and the convex straight type buttons, and a HAPPS 4-way Pac-Galaga stick hooked to a iPac. Black laminate was applied with contact cement, edge trimmed with flush bearing bit in router and T-molding slot cut with slot cutter. (Harbor Freight has cheap, clamps, router bits). ."
I always have liked laminated control panel.
4/5/2011
Keven L's "War Machine"
Keven took the time to send me the pictures of his first creation, an absolutely amazing cabinet he named "War Machine". Love the name. From his email:
"I did all of the artwork with pictures from the Internet. I spent a lot of time choosing good pictures of my favorite arcade games. I put an 26" Lcd tv in it. The controller is 4-player (the cabinet's namesake adorns the control panel), and there are two guns hidden in the drawer. I use Hyperspin as a front loader with theme and video for most of the games. There are all of Mame, Nintendo, Super Nintendo and Genesis games + House of the Dead 1-2-3, and dragon's lair 1-2. Computer speakers with sub, smart strip power bar that power and shut down everything when the computer does. The pushbuttons are placed as a hand for more natural feel and connected to a Ipac4. The start button for each player has a light bulb in it. there a volume control in the drawer too. the computer is right behind the coin door for access by opening the coin door."
Very, very nice work. There are two additional pictures to be found on the Visitor Page.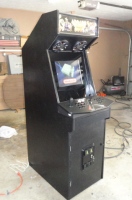 Jamie W's cabinet
Jamie is running Maximum Arcade on his cabinet, with a "ton of old console systems" installed in addition to, of course, MAME. It "makes him feel like a kid again. It was a job but also a labor or love." He has some materials left over so when he decides to take a break from playing it he might give the BarTop a try. Well done!
The Visitor Page has two more pictures.